SEARCH
Keywords:
Advanced search

SUBSCRIBE
Your email address: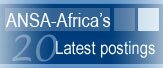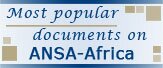 COMMUNITIES OF PRACTICE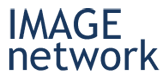 ANSA-Africa is a project of the Economic Governance Programme, IDASA

The Nairobi Social Audit Report
18 October 2010
Institute for Social Accountability (TISA)
The Government of Kenya is spending considerable resources at the constituency level. In 2009/10 at least 73billion went towards decentralised fund spending. This averages into Ksh 350million per constituency for local development. Through the CDF, LATF and ESP alone approximately 50billion was spent amounting to roughly Ksh 200million per constituency. However, the findings of this study uncover a myriad of challenges which mirror concerns raised by similar reports in the past.

Social Auditing is an approach to accountability that relies on the engagement of citizens. The driving force behind social auditing is the obligation of duty bearers to take responsibility for their actions. It is a rights based approach to accountability based on the fundamental principle that citizens have the right to demand accountability and public officials have an obligation to account. It is rooted in the work of the Indian organisation Mazdoor Kisan Shakti Sanghthana (MKSS).

Social Auditing is important because it promotes civic engagement and empowers people; reduces corruption and ensures effective development is realised; increases transparency and accountability for the promotion of good governance. Social auditing also offers mechanisms and structures to promote and protect the right of citizens to development.

The Nairobi Social Audit campaign was jointly undertaken by The Institute for Social Accountability [TISA], Shelter Forum and Ufadhili Trust between May and September 2010. The campaign targeted three decentralized funds: The Constituency Development Fund [CDF], The Local Authority Transfer Fund [LATF] and The Economic Stimulus Programme [ESP], in four Nairobi constituencies; Embakasi, Kasarani, Langata and Westlands.

60 ward representatives drawn from the four constituencies were identified and capacitated with knowledge and skills on how conduct social audits. The social audit public launch kicked off with a public meeting held at Babadogo, Nairobi in July 2010. The social audit teams thereafter undertook field work and complied field reports by the end of August. These were then analyzed and prepared into the first draft of the social audit reports and shared directly with official stakeholders and the public through public validation meetings in each constituency.

The output of the validation process has been complied and synthesized into this final report for public dissemination with the view to strengthening local governance in Kenya. In total 72 projects were sampled.

This report makes specific fund recommendations to relevant institution heads, as well as national policy recommendations with a view to informing ongoing reforms under the New Constitution of Kenya with a view to securing citizen engagement, transparency and professionalism in the County government structure.

We urge Parliament and other reform institutions to be bold, selfless and proactive in creating strong and accountable Counties and believe that this report will make a valuable contribution to the reform process.
Download document...

NEWSFLASHES
Elections on trial


12 January 2011


Africa Confidential
---
Raymond Suttner: Democracy


12 January 2011


Business Day
---
Sanusi's surging profile


12 January 2011


Leadership
---
Closer tie-up between govts, civil society bodies urged


12 January 2011


Gulf Times
---
Transparency board presents progress report


12 January 2011


Next
---
State bodies keep doors closed on budget documents


12 January 2011


The Jakarta Post
---
Revenue team ready to begin work


12 January 2011


Daily Nation
---
Far too many questions about the structure of devolved governments


12 January 2011


The Nation
---
Private schools lose lustre in new Form One selection rules


12 January 2011


Business Daily Africa
---
Nan Yeld: Education


12 January 2011


Business Day
---
INFORM US
Tell us about events relating to social accountability in the region